Stepping into the vibrant world of car boot sales can be both thrilling and a little daunting. Whether you're decluttering or hoping to earn some extra cash, a car boot sale is a brilliant way to achieve your goals. However, to ensure your venture is a success, you need to come prepared. We've crafted this thorough checklist to guide you preparing for your first car boot sale.
Research Car Boot Sales in Your Area
Your first step is to research local car boot sales. You can find car boot sales across the UK on our website. Pay close attention to the timings, as some start very early in the morning, while others may be afternoon or even evening events. Be sure to note the location, selling fees, and specific rules for sellers.
If possible, consider visiting a few sales as a buyer before you become a seller. This will give you an idea of what items sell well, typical pricing, and how experienced sellers present their goods.
Sort Out Your Items
Next, sift through your possessions to decide what to sell. It's often surprising how much we accumulate over time, and a car boot sale is a perfect opportunity to declutter. Keep an open mind during this process – items like clothes, books, toys, kitchenware, furniture, and electronics can all be big sellers. Don't forget to check your attic, basement, or garage for forgotten treasures!
Check out our blog about the best items to sell at a car boot sale >
Clean Your Items
No one wants to buy dusty, dirty items. Before the sale, make sure all your items are as clean and presentable as possible. For clothes, this might mean a quick wash and iron. For electronics, a wipe down with a dry cloth could suffice. If you're selling anything electrical, double-check that they're in working order. Bringing along a portable charger or batteries to demonstrate this can be a good idea.
Price Your Items
Pricing can be one of the most challenging aspects of a car boot sale. You might be attached to your items and overestimate their value, or you might undervalue them and miss out on potential earnings. To hit the sweet spot, spend some time browsing online marketplaces like eBay to get a feel for how much similar items typically sell for – you can use our handy car boot pricing tool to calculate the value of your items. Be realistic with your pricing – remember, the charm of a car boot sale lies in the pursuit of a good bargain. Top tip: attach price labels to your items prior to packing them in the car – that way, you only need to unpack when you get there.
Label Your Items
Once your items are priced, ensure each one has a clear, easy-to-read label. You can use price stickers, tags, or even just masking tape and a marker pen. This will make it easier for buyers to browse without having to ask you the price of each item. Consider grouping similar items together or creating themed sections like "kitchenware", "books", or "children's toys" to help buyers find what they're looking for more easily.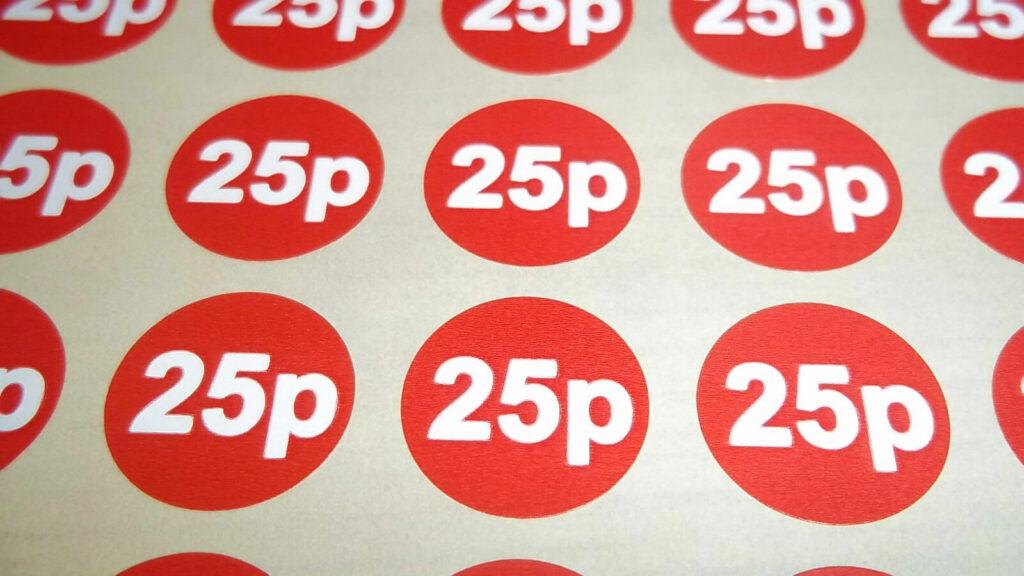 Label your items to avoid having to memorise each price
Pack Your Car Properly
Packing your car for a boot sale is like playing a real-life game of Tetris. You'll want to make sure everything fits, but also that fragile items are safely secured. Bubble wrap, newspapers, and soft towels can all serve as protective padding. If you have tables or clothes rails, bring these along too – they can help you display your items more attractively and accessibly.
Carry Change and a Money Box
Remember to prepare with plenty of coins and smaller notes for giving change – you don't want to lose a sale because you can't break a large note. Keep your money secure in a lockable money box, a bum bag, or a cross-body bag. Don't leave your money unattended at any point during the sale.
Bring Essentials
Don't forget to look after yourself during the sale. It can be a long day, so pack a comfortable chair, plenty of food and drinks, and clothing suitable for the weather. If it's sunny, bring a hat, sunscreen, and perhaps a portable umbrella for shade. If it's cold or likely to rain, warm clothes, waterproofs, and a thermos of hot drink can make all the difference. Don't forget, there is often food and drink available at car boot sales, but you don't want to spend your profits!
Arrive Early
Arriving early gives you the advantage of setting up your stall before the buyers arrive. You'll also have the pick of the best locations. An ideal spot is close to the entrance, but not so close that people pass you by as they head deeper into the sale. It can take a while to unload and arrange your items, so give yourself plenty of time. You will often find other buyers lurking around to see what you're selling, however they're unlikely to offer you the full price!
Be Friendly and Approachable
Your attitude can significantly impact your sales. Greet customers with a friendly smile, be open to questions, and be willing to negotiate on prices. Remember, haggling is part of the fun at a car boot sale! Engage with your customers, tell them the stories behind the items if there are any. This not only helps sales but makes the experience more enjoyable for everyone.
Pack Up Properly
When the day comes to an end, ensure that you leave your selling spot as clean and tidy as you found it. Pack up any unsold items neatly – you can always try to sell them at the next car boot sale. If you have items left that you don't want to take home, see if the car boot sale venue has a partnership with a local charity that might take the leftovers.
Remember, your first car boot sale is likely to be a learning experience. Don't be disheartened if everything doesn't go perfectly, but the key to success is properly preparing for your first car boot sale. Take note of what works and what doesn't, and use your experiences to improve for next time. Above all, enjoy the process – car boot sales are not just about making money, they're also about connecting with your community and having fun. Good luck!