Vinyl records have made a tremendous comeback in recent years. Music aficionados and new enthusiasts alike are seeking them out, drawn to the tactile experience of vinyl in a digital age. One treasure trove often overlooked when starting or expanding a record collection? Car boot sales! But how do you navigate the myriad of records on offer, identify gems, and ensure you're getting genuine articles without being fleeced? Whether you're hunting for the Beatles' first press or a David Bowie rarity, here's your roadmap to buying records at a car boot sale.
Know your basics
Era and Genre
Records chronicle decades, and each era boasts its hallmark artists. For instance, spotting a vinyl titled "The Dark Side of the Moon" with its iconic prism cover hints at the '70s rock legends, Pink Floyd. If you spot this record, you're in for a treat. By understanding different eras and genres, you can pinpoint records that resonate most with your musical taste.
Formats
While most are familiar with the standard 12-inch LP, there are also 7-inch singles, EPs, and even some 10-inch records. Each serves a different purpose, with LPs usually containing full albums and 7-inches often reserved for singles. Recognise the difference between a 7-inch single like The Rolling Stones' "Angie" and a 12-inch LP like their full album "Sticky Fingers" with its renowned jeans zipper cover.
Spotting genuine classics
Label Details
Authentic labels carry consistent fonts, colours, and logos. For example, genuine Atlantic Records releases from the 1960s and early '70s sport a distinctive green and blue label.
Matrix Numbers
Found etched in the record's run-out groove (nearest to the centre), these numbers can provide information about the pressing. It always pays to keep your phone handy – a quick online search can verify if the matrix number matches known pressings of the album. These tiny etchings, like the YEX 749 on an original 1969 press of The Beatles' "Abbey Road", can reveal a pressing's authenticity.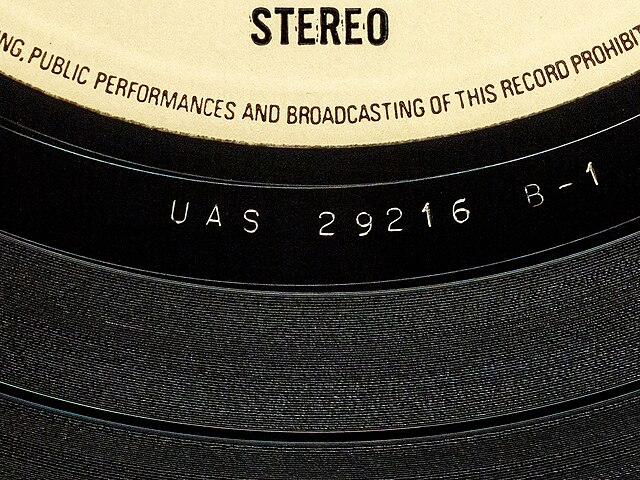 Matrix number on the vinyl LP album with the 1971 soundtrack of James Bond 007 Diamonds are forever by John Barry.
Cover Art Quality
The sharpness and vibrancy of an album cover, such as "Sgt. Pepper's Lonely Hearts Club Band", can distinguish genuine classics from counterfeits. Counterfeits may have blurred images or colours that don't match original pressings.
Determining Quality and Condition
Visual Inspection
Surface marks on albums like Bob Dylan's "Highway 61 Revisited" might not be alarming, but deeper scratches, especially on iconic tracks, can diminish the listening experience.
Sleeve Condition
The sleeve tells a story. An original sleeve, like the lyric-laden one for The Smiths' "The Queen Is Dead", boosts a record's value if in good condition. If a sleeve is kept within a plastic pouch, this is usually a good sign that a record has been looked after.
Playability
Having a portable player can be handy. Giving Fleetwood Mac's "Rumours" a spin to ensure tracks like "Go Your Own Way" play smoothly is always a wise move. We understand that this isn't always possible at car boot sales, so looking for any scratches on the record will be key to ensuring it plays properly.
Price Points
Vinyl record prices at car boot sales can be a steal, but it's essential to have an idea of average costs to avoid overpaying.
Common Albums
Classics, though abundant, like The Eagles' "Hotel California" can be snatched for £1 to £5.
Rare Finds
Coveted albums, such as a first pressing of David Bowie's "The Rise and Fall of Ziggy Stardust", can have you parting with £10 to £50.
Ultra-Rare Collectibles
Think early pressings of iconic albums, records mispressings, or promotional editions. These can command prices upwards of £100, though finding them at a car boot sale at that price is akin to finding a golden ticket. A mispressing of The Beatles' "White Album" could make you a lucky owner of a piece worth well over £100.
Negotiation Tips
Bundle and Save
If you're buying multiple records from one seller, try bundling them together for a discount.
Do Your Research
A tool every vinyl hunter should wield is their smartphone. When in doubt, quickly checking the going rate for albums, say, Nirvana's "Nevermind", can be invaluable. Not only is your phone useful for searching online, but the torch can double as a great way to inspect a record while you're at the car boot sale.
Build Relationships
Loyalty has its rewards. Regular customers at stands may get a sneak peek into fresh arrivals or priority picks – it always benefits you to strike up a conversation with sellers.
Avoiding Fakes
Price Too Good To Be True: A suspiciously low-priced mint condition "Pet Sounds" by The Beach Boys should set alarm bells ringing – however there is always the chance the seller doesn't know the true value of what they're selling.
Knowledge is Power
Knowing that Radiohead's "Kid A" initially skipped a vinyl release in the '90s can save you from a counterfeit trap.
Ask Questions
Every record has a backstory. Probing about the history of a seller's record collection can be enlightening, and could lead you to finding more hidden gems among their collection.
The world of car boot sales offers a vinyl utopia, a blend of history, art, and melody awaiting rediscovery. With knowledge as your compass and passion as your guide, you'll not only find records but also tales and memories etched in grooves. Happy crate digging!