A car boot sale is an excellent way to earn some extra cash while decluttering your space. However, one of the most pressing questions is how to price the items to ensure a good turnover without underselling valuable items. Below, we breakdown the ideal selling price for different categories to help you get the most out of your car boot sale.
Clothing
Clothing is always in high demand, with potential profits depending on the brand and condition. Generally, items can fetch between 50p and £20. However, designer or vintage pieces can go for £50 or more, making it worthwhile to dig out those rare finds. We've seen some great examples at car boot sales this summer where Ralph Lauren polo shirts have sold for £40.
Read our guide on selling clothing at car boot sales >
Books
Books, both fiction and non-fiction, find eager buyers at car boot sales. While paperback books generally sell for 50p-£1, hardbacks can get you £2-£3. If you happen to possess rare first editions or signed copies, you could be looking at £50 or more. A great example of a successful sale this summer was a hardback first edition of Harry Potter and the Philosopher's Stone which sold for £45.
Toys and Games
Toys and games provide entertainment for kids and nostalgic value for adults. Standard toys can be priced between 50p and £20. Yet, if you have vintage toys from popular series like Star Wars or Barbie, you could fetch prices upwards of £50.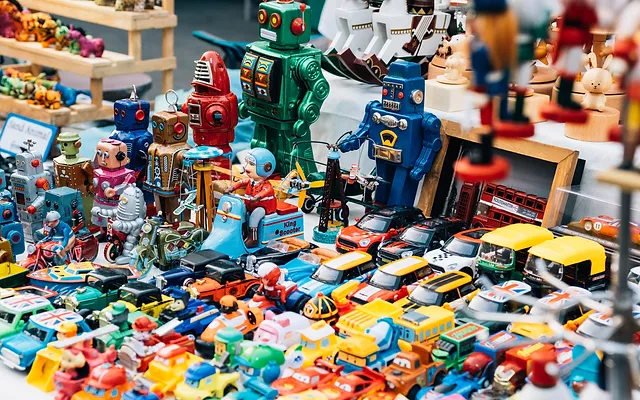 Electronics
Electronics, if in good working condition, can be the star of your sale. Modern devices like phones and tablets can sell between £50 and £500. Vintage electronics, which evoke a sense of nostalgia, can sometimes even reach prices in the thousands. DVD players, CD players and vintage hi-fi can often fetch great prices at car boot sales, too.
Kitchenware
Quality kitchenware is always in demand. Everyday items generally fall in the 50p to £20 range. However, sought-after brands like Le Creuset and Denby, or vintage pieces, can earn you £50 or more. If you've got cast iron kitchenware, you're almost guaranteed some great income.
Furniture
Though large furniture pieces are not ideal for a car boot sale, smaller items can fetch a good price. Prices generally start from £10 and can go up to £50 for regular items. Vintage or designer pieces can command much higher prices, venturing into the hundreds or even thousands. Larger items are not recommended as most people don't arrive at car boot sales in a van!
DVDs, CDs, and Vinyl Records
Collectors often hunt for rare finds in DVDs, CDs, and vinyl records section. While the regular items usually sell between 20p and £20, limited editions and rare finds can go for a much higher price, potentially reaching into the hundreds.
Tips for Pricing
Research: Before you price your items, do a little research to understand the market value.
Condition: The condition of the item significantly affects its price. Ensure to clean and present the items well to fetch a good price.
Negotiations: Be prepared for negotiations and set your prices slightly higher to allow room for haggling.
Second hand item valuation
If you're not sure how much your item is worth, you can use our handy calculator below. This will give you a guide on the items value, and let you know whether you're likely to sell it at a car boot sale, or whether you'd be best to help by donating to a local charity shop.
By setting the right prices and presenting your items well, you can look forward to a successful and profitable car boot sale. Happy selling!